Orosso Core
Your Site Features
Content Management
Power Tools
Advanced Utilities
PREVIOUS
NEXT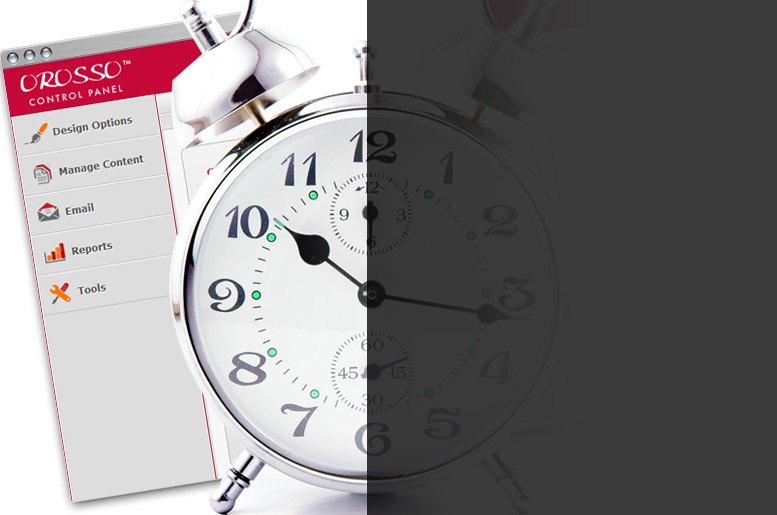 On-Demand Websites
Orosso websites are prepared to launch the minute you are ready. It is as easy as signing-up for an account, selecting your layout, uploading your content and publishing it online. Instantly after uploading your images and adding your content, your website is ready to amaze your visitors.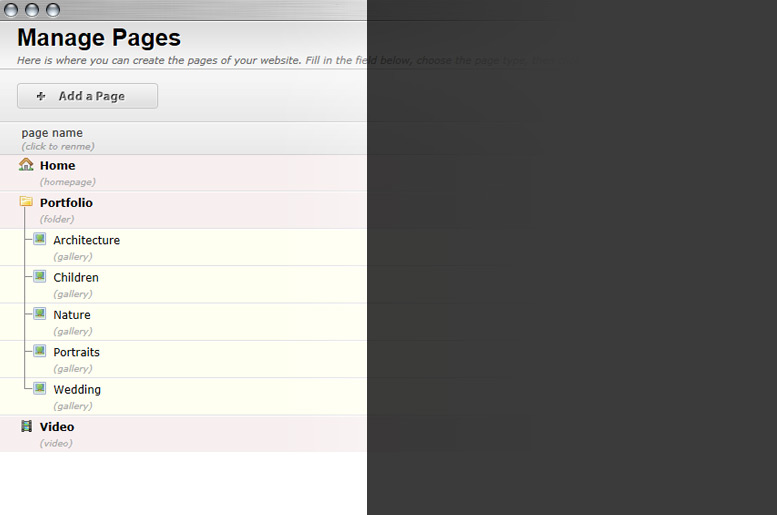 Content Management
Manage the content of your website using the Orosso control panel. The simple navigation allows you to quickly locate all of the Orosso features and make edits to your content in a cinch. Without difficulty, you can easily manage and update your website.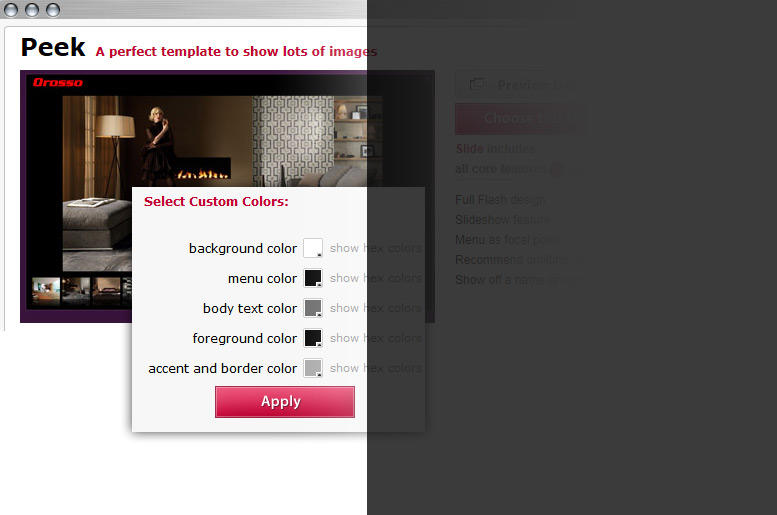 Easy Customization
When creating your site, you will want to create a website that truly belongs to you and suites your style. Orosso websites offer easy customization that allows you to set up your site's entire look by selecting your template, and colors; adding a logo; and setting up your pages. Unlike others programs, on Orosso, you can change your template even after your site is launched as new modern templates become available.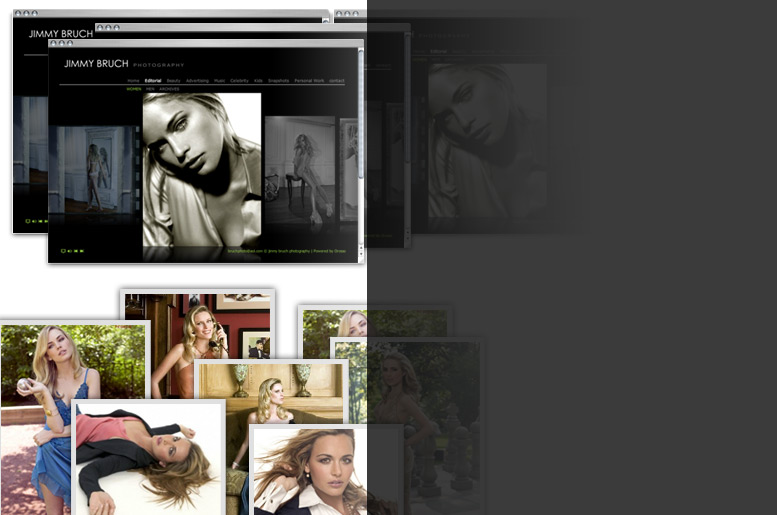 Unlimited Pages and Galleries
Create as many pages and galleries as you would like without having to pay any additional fees. There is no need for an upgrade, just log into your control panel and start uploading.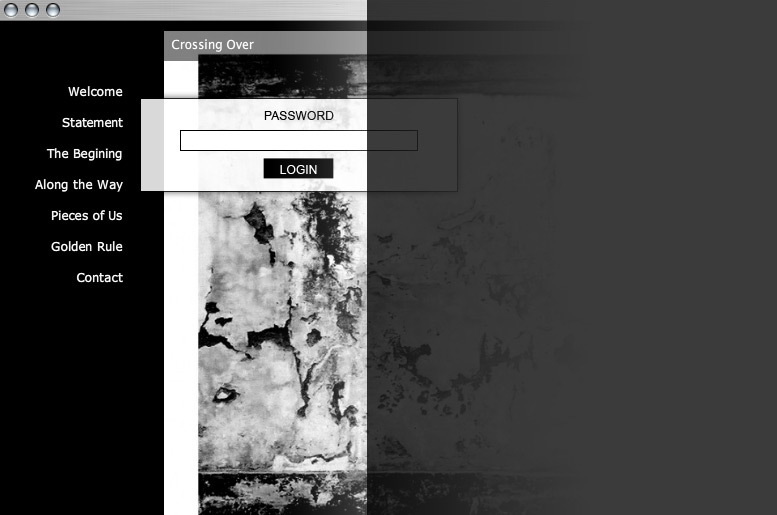 Password Protected Pages
Secure your work using password protected pages and galleries. Great for showing images to a client or a small group of people. Protect a page with one click in your control panel.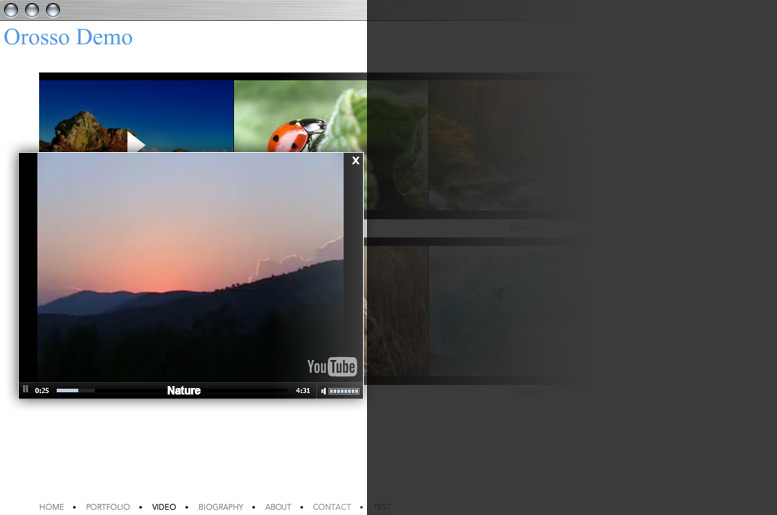 Video
Present videos on your website in a video gallery. You can upload them directly onto your site or embed them right in using a Youtube link. Great for photographers, videographers, and anyone who wants to add video on their site.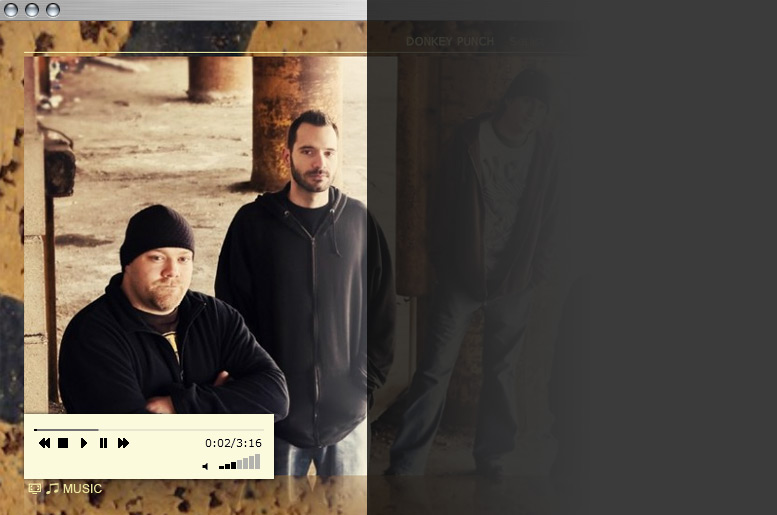 Music
Set the mood for your visitors by adding music into your website. Adjust it up to play on the homepage or on the entire site.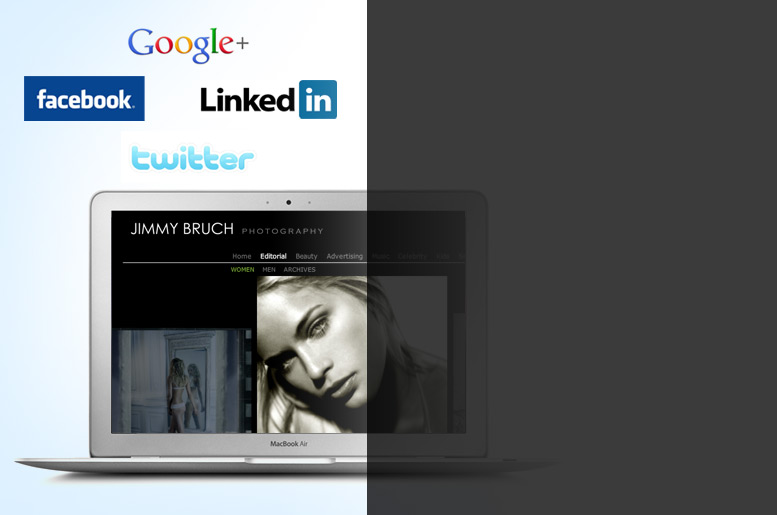 Social Networks
Interact with your visitors via social networking. Select from the list of icons available in your control panel and link visitors to your Facebook, Twitter, LinkedIn, or Google+ page.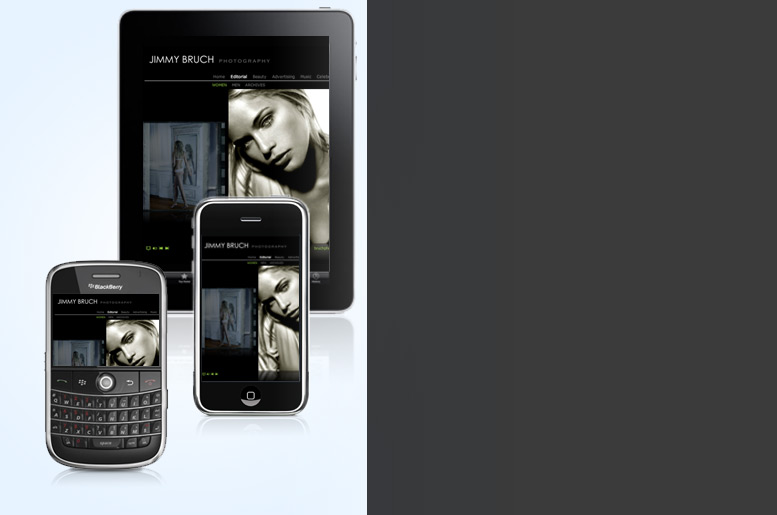 Mobile, iPhone and iPad Support
Take your website on the go with the iphone and ipad. Your website will be translated from Flash into HTML5, allowing all mobile and tablet users to view your website from anywhere.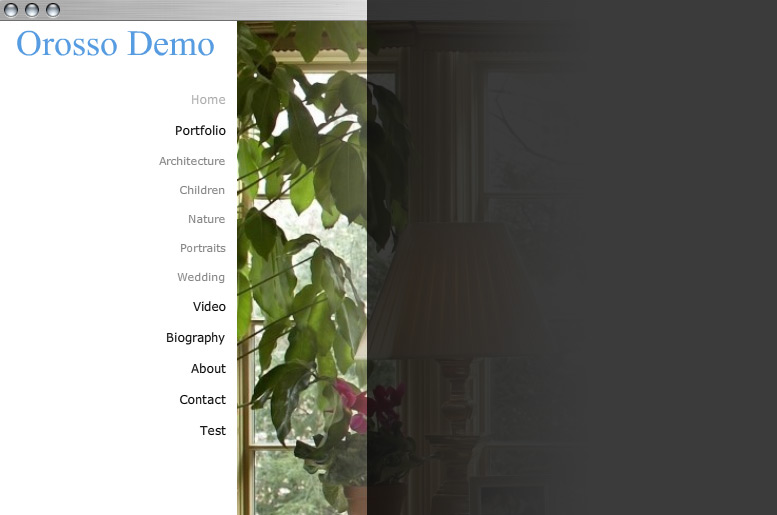 Sub Menus
Make a more robust website by organizing your galleries and pages in sub menus; which is added as a drop down from your main menu. For example, you can create a main menu that reads "Portfolio" and then add sub menus such as "2009, 2010 and 2011".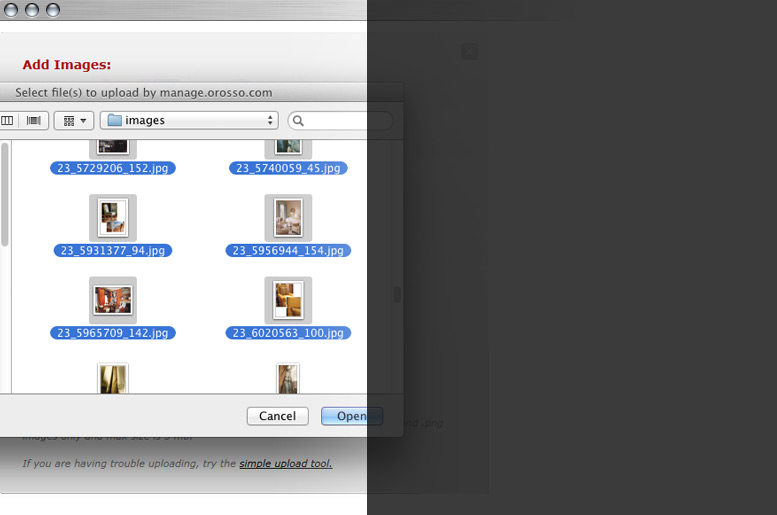 Multiple Image Upload
Upload multiple high quality images with ease. Simply select the images from your computer you would like to upload and let the queue do its' job. You can also do the opposite and delete multiple images at once.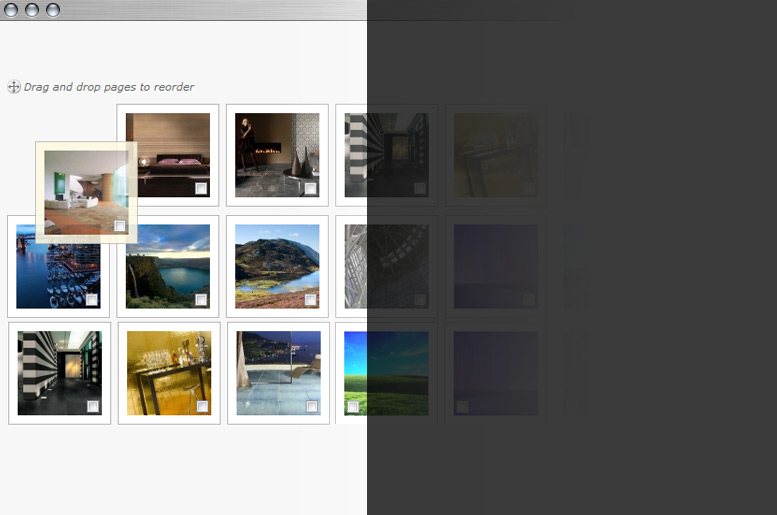 Drag and Drop Interface
With no trouble, make edits to your website with our easy to use drag and drop interface. Simply drag and drop images and pages to put them in the order you want. The changes you make will appear on your website instantly.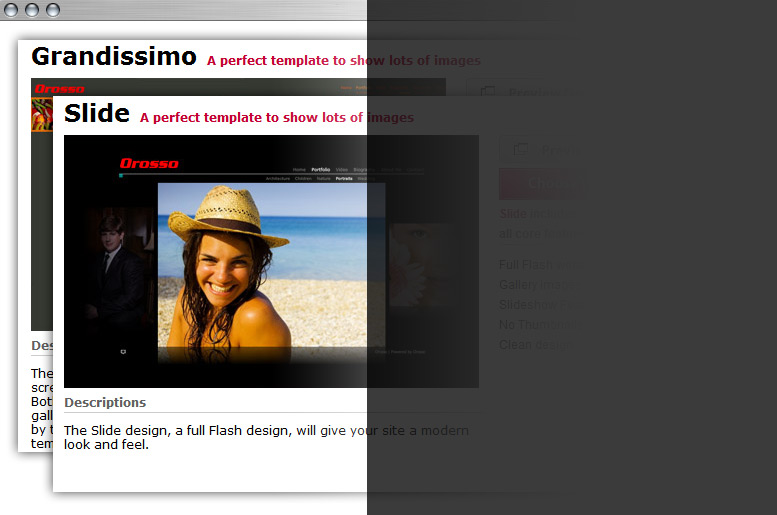 Template Selection
Choose between a dozen masterfuly created templates. Each template evokes a different look and feel. With new ones always under development and with the ability to change your template anytime you can always keep your site updated.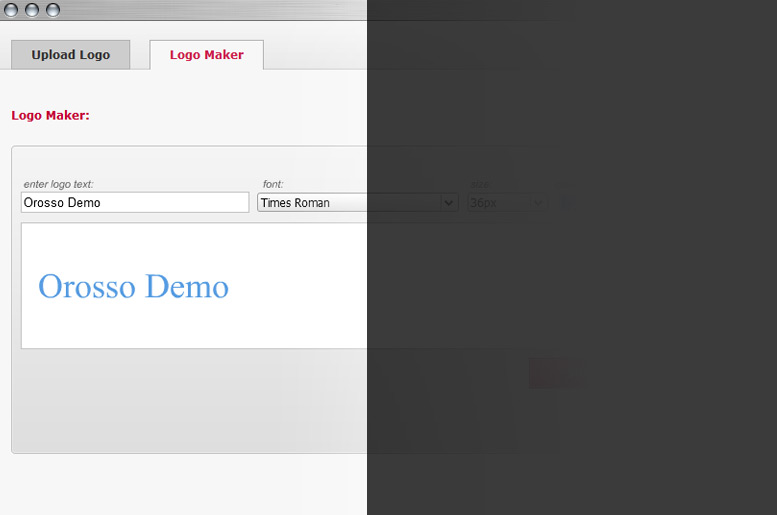 Logo Maker
If you do not already have a logo, Orosso has a tool to quickly create one. You can alter the font, size and even color.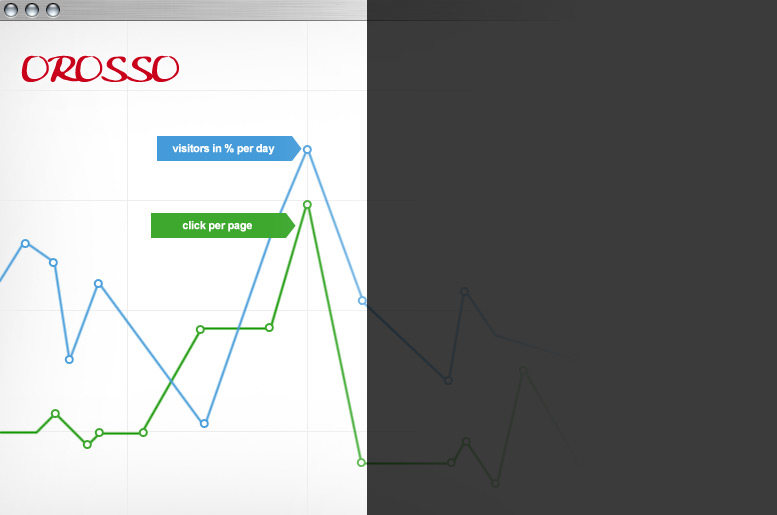 Web Statistics
Find out how your website is doing by analyzing your web statistics. You will be able to see how much traffic is coming to your website and who might be referring you. Reviewing the statistics can also help you determine your marketing strategy.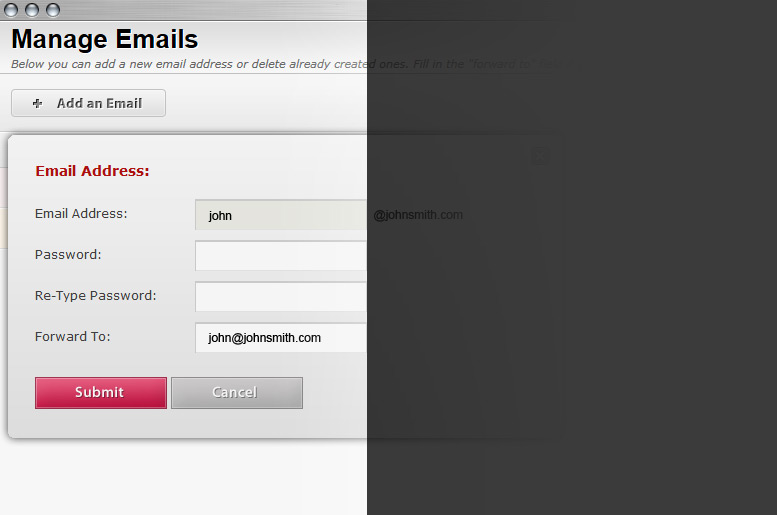 Email
Communicate with your current and future clients using your domain name email address (e.g. me@mydomain.com instead of me@gmail.com). This feature will show your clients that you are a serious professional with your corporate email address.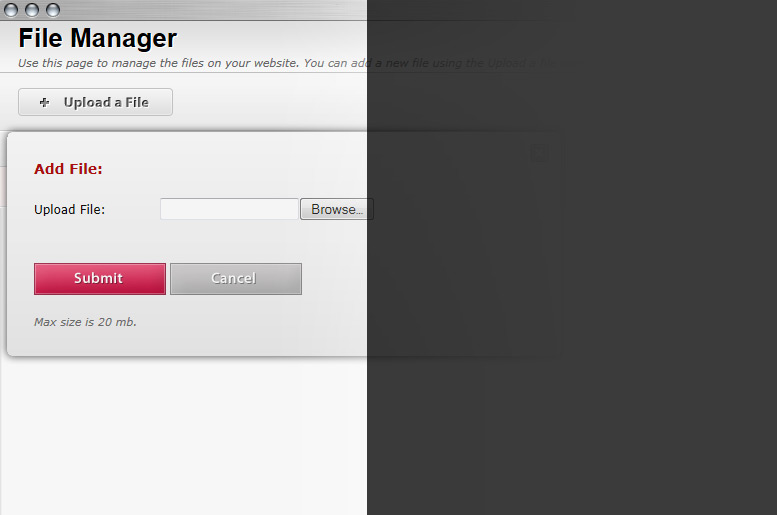 Easy File Management
Orosso is more than just a website. You can store files in your Orosso account so that you can easily send large files to clients or post them to on your website to be downloaded.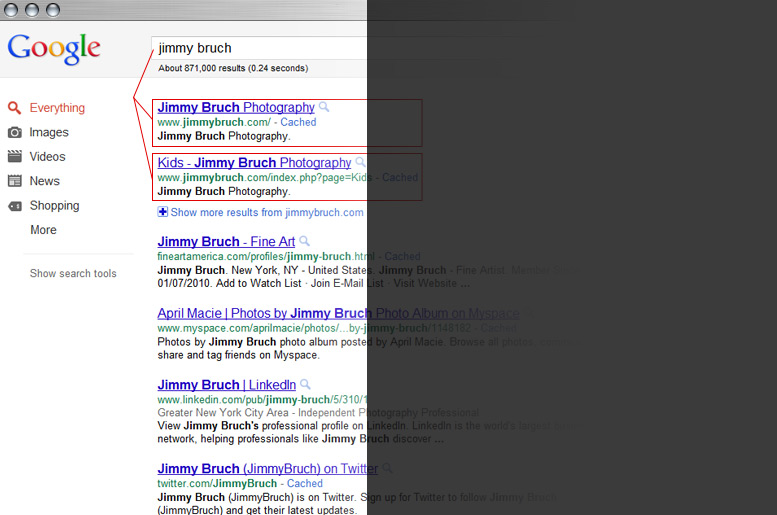 Search Engine Optimization
Orosso websites are optimized to appear on top search engines like Google and Bing. It uses special techniques to make sure that your content gets registered with Google even though our templates are Flash based. Drive in more traffic by having a site that appears in good position on the search engines.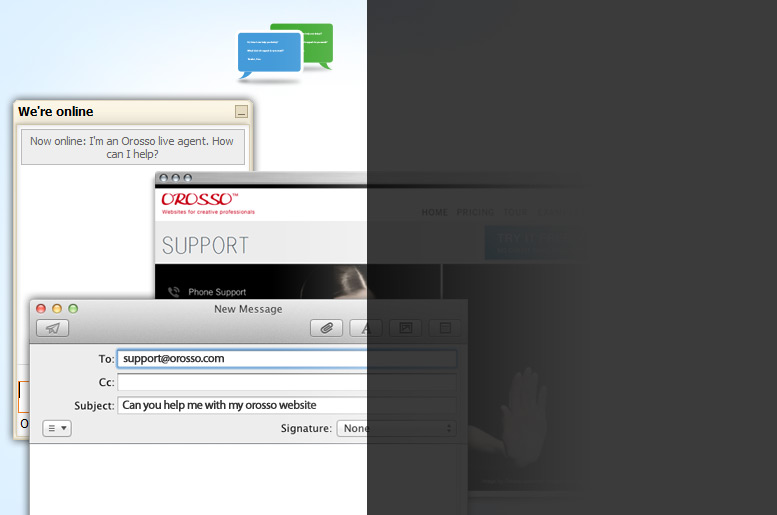 Amazing Customer Support
Orosso is all about our customers. We reach out to you. From the instant you sign up, you will be assigned an Orosso consultant who will assist you in setting up your site. You can ask us any questions or concerns and we'll provide answers and guidance.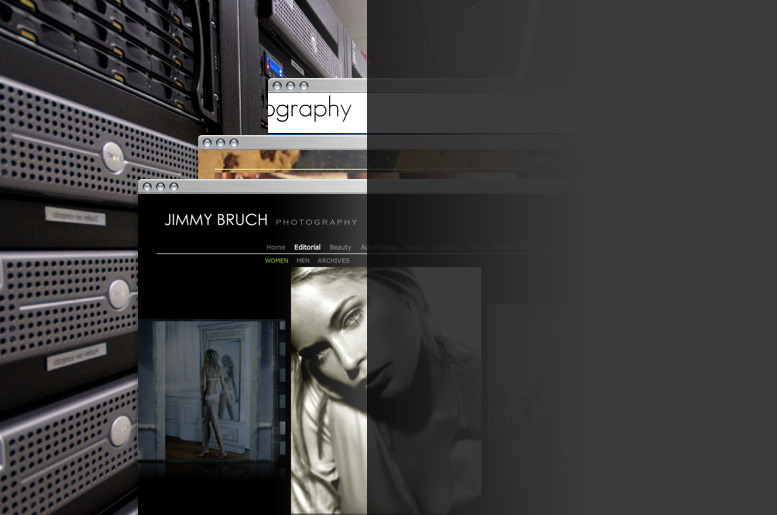 Premium Web Hosting
Orosso hosts your website on high performance servers. A powerful network of servers assures that your site will be fast and available at all times.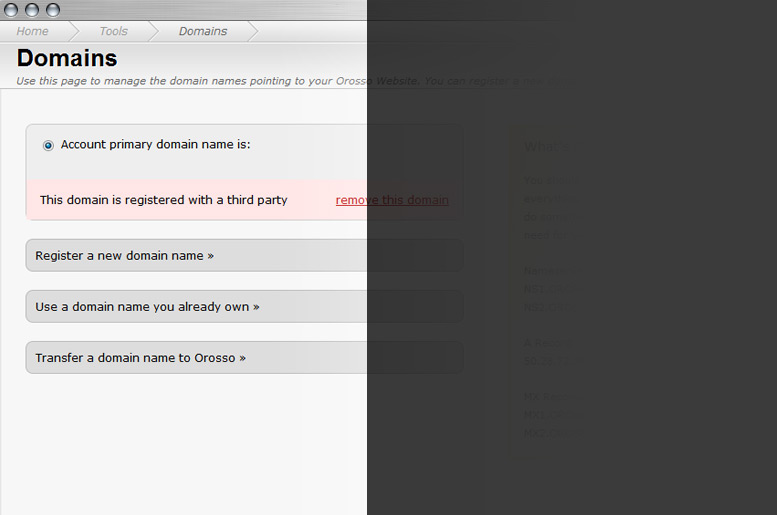 Domain Management
The domain name is the unique address of your site like www.mydomain.com. You can use a domain name you already own or choose to buy one through Orosso. The cost for a domain name is $20 per year.